Join the Club
Never run out again. Coffee subscriptions now available. Save 10% off your next order.
Subscribe Today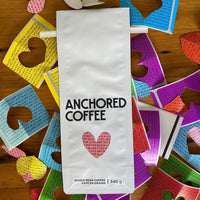 Hearts out initiative
The #heartsoutinitiative is a fundraising platform to raise money for black and indigenous led organizations in communities across Canada. Each heart is hand cut from our labels with the goal of creating a sustainable way to give back through our partnerships with the cafes we supply.
$5.00 from each bag sold will go to a black or indigenous led organization of the cafe's choice. We plan to continue and grow the #heartsoutinitiative to become as widespread as possible! This is a small step in stepping up and giving back. The coffee in the hearts out bag is a medium roast blend of Nicaraguan and Guatemalan beans. Sweet, balanced, delicious and full of love.
Shop Now